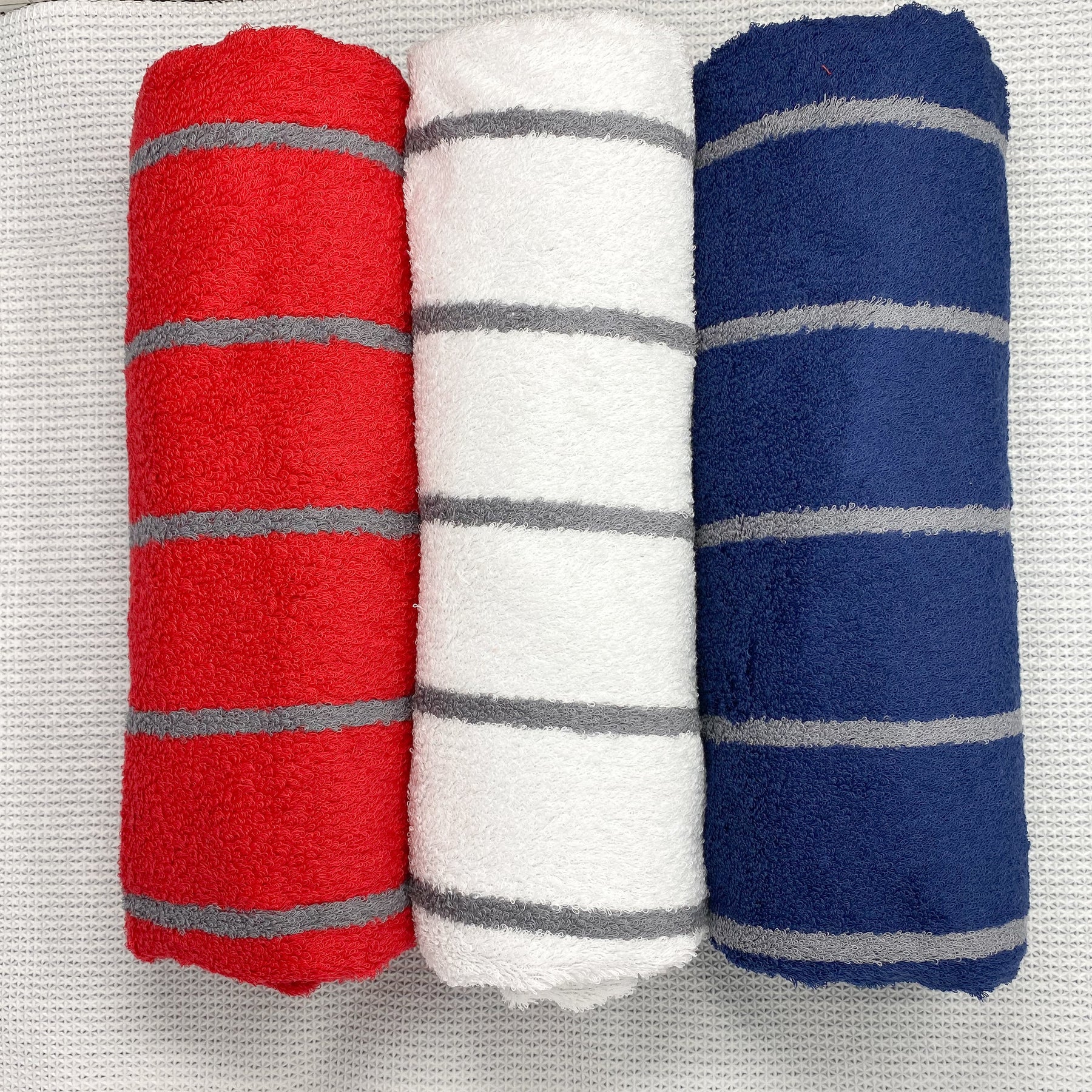 Blue, Grey and Red Super Absorbent Bath Towel (70x140) - Pack of 3
Size:
70*140
Style no.: 1329
MRP:5097
Color: Blue, Grey, Red

Pack Contains :3 Bath Towels
Size: 70*140
Dimensions: 70*140
Material: 100% Cotton Terry
Usage: Bath Towel
Pattern: Stripes
USP: Luxurious, highly absorbent from both the sides these super soft, super dry plush towels are professionally hemmed by experts to ensure durability, fade resistance and zero twist. The aesthetic shades make them not just the towels you need, but also, the towel you deserve.
Description:
100% cotton

- These super soft plush towels are composed of pure cotton. Experience the softest cotton with a silk like texture against your skin.

Comfort and Durability

- These breathable towels are skillfully woven to give you the most exquisite, posh and durable material.

Fade Resistance

- Using natural, non-chemical dying techniques, we ensure that even repeated washes will not dull the colors.. Peaked color fastness ensures that the towels stay new!

Durable

ƒ We pay a lot of attention to finishing. To enhance your experience further, these elegant towels are finished with wide, plain woven tape borders.

Chemical free

ƒ Every inch of the towel is expertly treated with care and washed before it reaches you. Chemical -free towels with silk like texture makes it an essential for your sensitive skin and your babyƒs.

Zero Twist

ƒ Made by professionals using zero twist spun yarn, the material feels extraordinarily soft and fluffy while providing a shorter drying time! Zero twist cotton towels are lighter than a cloud, softer than a cloud, and easily portable.

Bio-Polish Treatment-

An anti-lint treatment is done to reduce the lint, the loose fiber that comes to the surface when rubbed.

Quick dry

- These ultra-fast dry and slip resistant towels are damp weather essentials!

Stripes

- The aesthetic colors and stripes make it look elegant and help in adding grandeur to your bathroom.
Care instructions:
Home washable

Wash dark colors separately

Do not bleach and tumble dry.
We guarantee 100% Customer Satisfaction
- We are confident you will fall in love with our towels, but, if you donƒt, we will work with you and make it right.