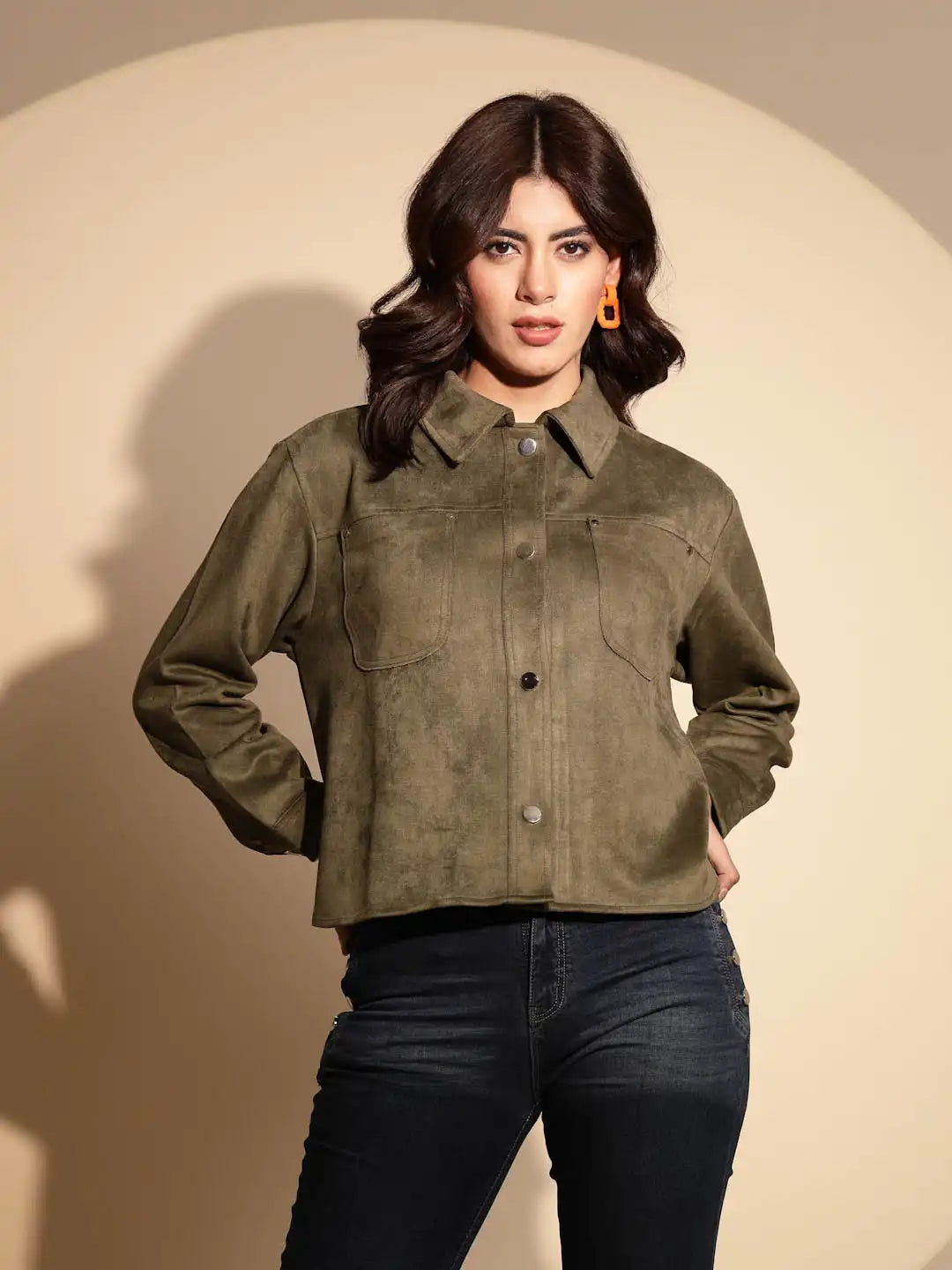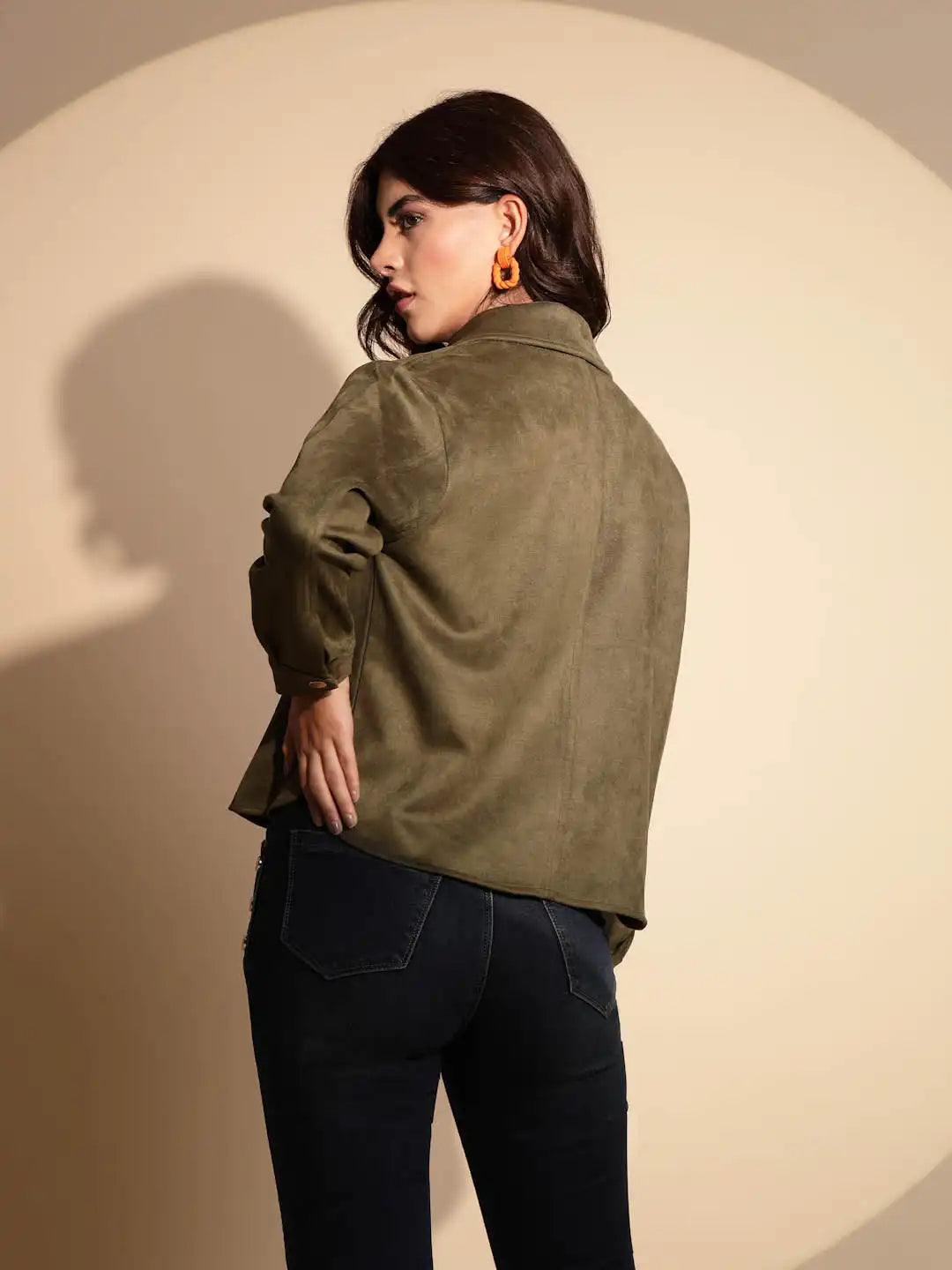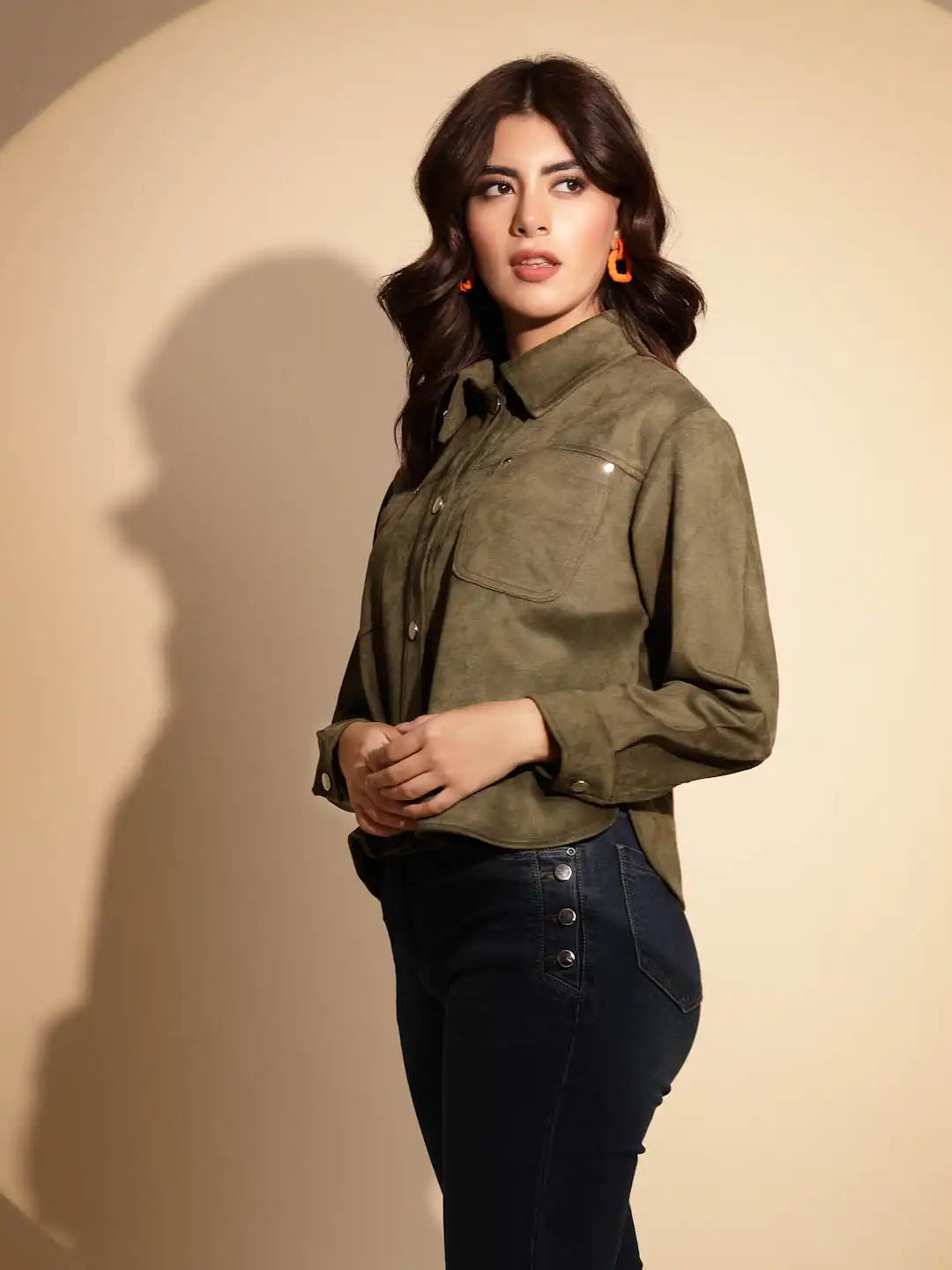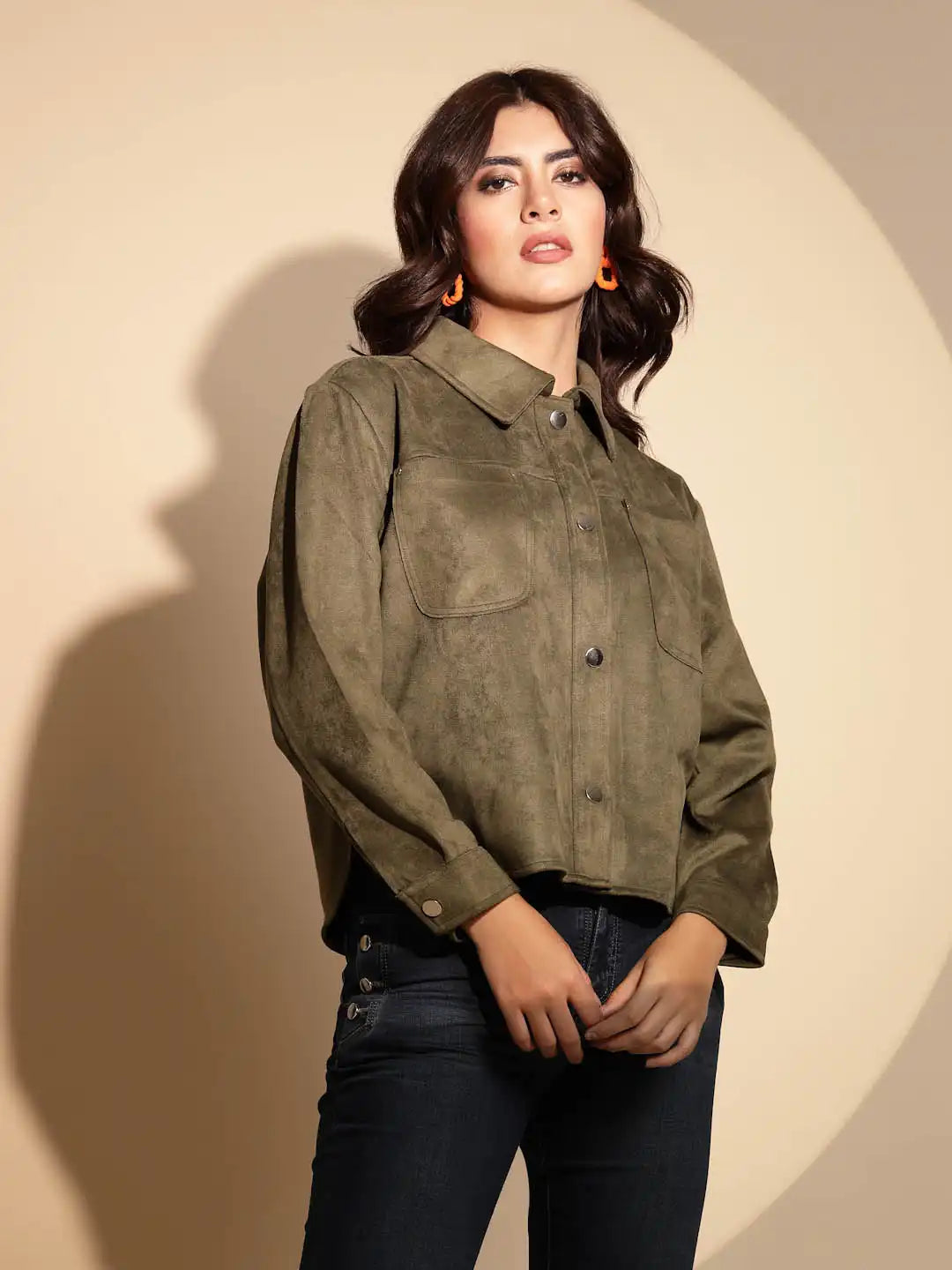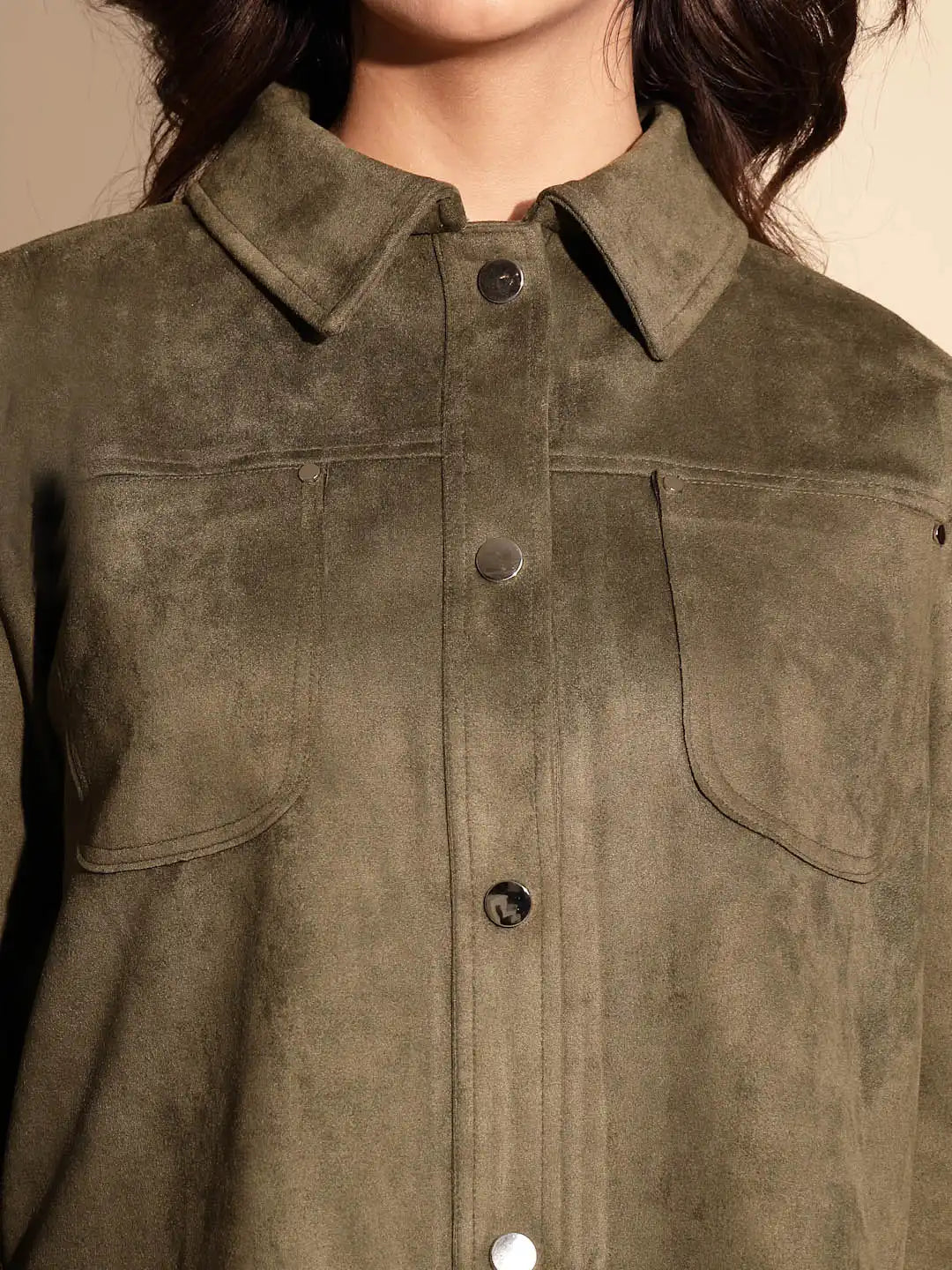 Olive Solid Full Sleeve Collared Neck Suede Shacket
Size:
M
The outwear you're describing has some key features:
Front Button Closure: This is a closure mechanism at the front of the Shaket that allows you to easily open or close it. This feature provides adjustability for both coverage and style. You can leave the jacket open for a more relaxed look or button it up for added warmth and a different aesthetic.

Two Front Chest Pockets: The Shaket is designed with two pockets located on the chest area. Each of these pockets is equipped with a button closure. These pockets serve a dual purpose:

a. Fashionable Touch: The button closures on the chest pockets add a stylish and trendy element to the Shaket design. They can enhance the overall appearance of the jacket and make it look more appealing.

b. Convenient Storage: In addition to their decorative aspect, these pockets offer practicality by providing storage space for small essentials. You can use them to store items like keys, coins, a small wallet, or other items you want to keep handy while wearing the Shaket.
Item Specialty :  Absorbent, Comfortable, Drapes well, Easy to handle and sew, Good strength
Product Color : Olive
Category : Shaket
Department : Women
Fabric Type : Suede
Sleeve Type : Full Sleeve
Closure Type : Button
Fit Type: : Regular Fit
Pattern : Solid
Occasion : Winter Casual
Wash & Care : Machine wash, Do not bleach, Low iron, Do not dry clean, Do not tumble dry, Dry flat in the shad
Model is wearing Size: M
Special Features : With Its Classic Turndown Collar And Cropped Length
Jeans: You can wear the shaket with jeans for a classic and casual look. This combination is perfect for everyday wear, whether you're running errands, going for a casual outing, or just want a comfortable and stylish outfit.

Skirts: Pairing the shaket with a skirt adds a touch of femininity to your ensemble. Whether it's a denim skirt for a more casual appearance or a flowy, printed skirt for a dressier look, the shaket can adapt to different skirt styles.

Sweaters: Layering the shaket over a sweater is an excellent choice for colder weather. The combination of a warm sweater and this shaket can provide both style and insulation, making it suitable for chilly days.

Dresses: This shaket can even complement dresses. Throw it over a dress for a trendy and slightly edgy outfit. It can be a great way to add some contrast and create a versatile look that can transition from day to night.
The shaket's ability to effortlessly pair with these different clothing items demonstrates its adaptability. It's a versatile choice for various occasions, whether you're going for a casual, relaxed appearance or a dressier, more polished style. This adaptability makes it a valuable addition to your wardrobe, allowing you to create multiple outfits without much effort.
Comfortable
Its looks are very good. material is very nice.